Procedure for Online Examination
International Non-Olympic University (INOU) is making online examination process sufficient to all the students that can surpass the interactivity of a traditional classroom.
Online Examination Procedure:-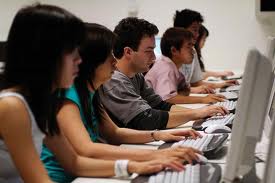 Student can give the examination as per their convenience in March, June, September and December as exams are carried on quarterly basis.
Examination flexibility is provided to the student as can decide on for all subjects in 1 Quarter and can give the remaining subjects in next quarter.
Students need to successfully complete first year exam and then can opt for second year exam.
Check for the Exam Date and Time on our Website www.inou-edu.org.
On registering for the online examination, INOU will communicate your Login ID and password via email.
Select the location of your computer workstation for the examination, which can either be any of INOU Exam Centre or cyber cafe or Home ( Cyber cafe and Home option only for those students who are their into remote areas where INOU Exam Centre is not there.)
On the Exam day log on to our website www.inou-edu.org
Enter the Login Id and Password assigned to the student
You also have an option to appear for a 20 minute mock test before attempting the paper.
Please ensure that your Computer has 3 hours of uninterrupted connectivity of Power and Internet Services, as in case of power failure the student will have to re- appear for the exam in the following quarters on the scheduled date and time.
The question paper will appear on the screen at the scheduled time. The duration of examination will be one hours unless otherwise specified.
The Examination would be of multiple choice questions or descriptive type and you have to click the correct answer or write the correct answer.
Each question will remain on screen for 1 minute or 15 minutes, if you answer or skip the question before 1 minute or 15 minutes, the next question will immediately appear on the screen.
In any case, the next question will appear after 1 minute or 15 minutes.
After you complete the examination and click on "Submit" button.
The results will be announced in the website (www.inou-edu.org/results.html) after one week from the examination.
Successful Candidates will receive their mark sheets duly stamped, within 10 working days from the results announcement.